8 Of The Best Foundation Tools For Perfect Make-Up Application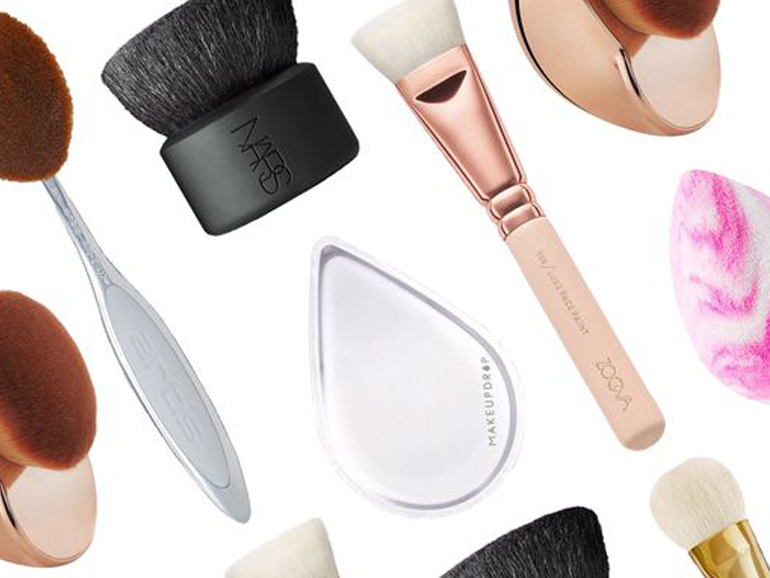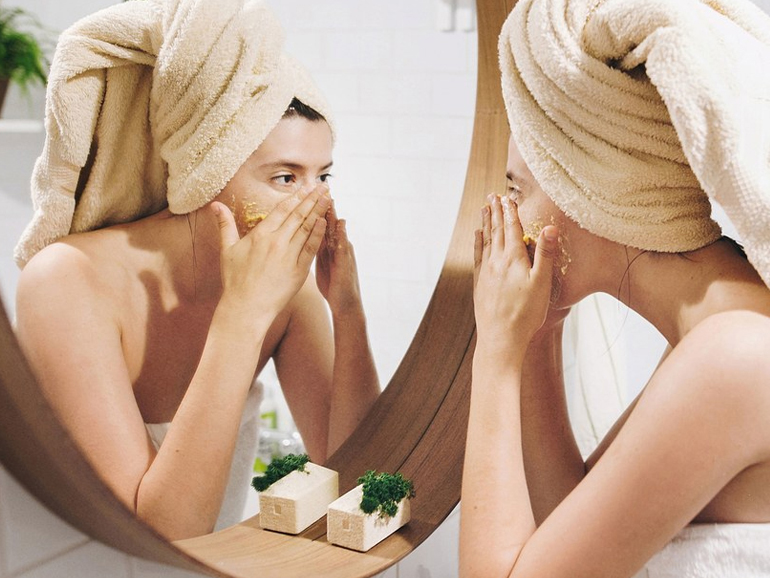 Selecting the correct foundation tool for your skin type and desired finish can be as tricky as finding the perfection foundation colour. Should you be using a brush or blender? Is there a right or wrong technique? How do you build-up coverage without an embarrassing cakey look as the end result? And is the hype really worth all those products you see beauty bloggers raving about?
Fear not, we're here to break it down for you. Check out the best foundation brushes, tools and sponges for guaranteed perfect make-up application every time.
Artis Elite Mirror Oval 8 Brush
A totally game changing make-up brush, the dense but super soft CosmeFibre filaments are tapered to provide a superior blending experience and flawless finish to your foundation. Simply apply your foundation to the centre of your face and buff outwards using the comfy ergonomic handle.
Makeup Drop
With all the recent hype around silicone make-up applicators, we've been dying to get our hands on one IRL. And finally, the tear-shaped Makeup Drop is launching in Boots.
With a silicone texture slightly like that of your bra chicken fillets, and lacking the rounded shape of a BeautyBlender, it's not the easiest application process, but there are major plus points.
1. It's super easy to clean. Compared to a foundation sponge, the silicone doesn't absorb any product which makes it totally wipe clean.
2. It makes your foundation last for ages. Because it doesn't absorb any product, the foundation you do apply actually stays on your face, rather than in the sponge meaning you can use way less than your usual pumps.
BeautyBlender Swirl
There's a good reason why this sponge is one of the most popular on the market, especially for those who want to achieve maximum coverage. Dampen the blender, squeeze out any excess water, apply a little foundation (you can build up with a second application if need be), and then gently bounce it across your face for a streak-free application.
Plus points? It's multi-purpose—use the same sponge for concealing and/or contouring, or a separate (dry) one to bake–and the egg shape allows you to reach difficult areas like the sides of your nose and under your eyes.
Zoeva Luxe Face Paint Brush
If a liquid foundation isn't part of your make-up routine, try Zoeva's luxe face paint brush for loose and pressed powder products. It's synthetic – meaning it's more hygienic than a sponge which tends to soaks up a lot of product (and therefore bacteria), and the flat, square shape allows you to easily define and blend.
If you're using liquids for foundation followed by powders for contouring, this brush super useful for sculpting cheekbones and jawline, à la Kim Kardashian.
Iconic London Pro-Evo Buffer Brush
While buffer brushes aren't uncommon, the texture of this Iconic London one is. Made from over 400,000 velvet-like fibres, this uber-soft tool is pretty ideal for any type of finish you'd like to achieve, but I've found it most useful for light-to-medium coverage.
Dab small dots of foundation all over your your face, working from the centre and buffing outwards in small circular motions. Be sure to blend, blend, blend (unless you want a streaky face!).
It's also great for primers and tinted moisturisers – and since the size is so cute and compact, pretty handy to take on your next beach vacay.
Color Me Automatic Foundation Applicator
Yes, there's a hi-tech tool for applying foundation. No, it's not a gimmick.
If you're seriously looking for long-wearing application without the touch-ups in between, this does a fantastic job for liquid, cream and powder products.
The hard work is done for you by sonic pulse technology, used to mimic the tapping technique of professional make-up artists, so all you need to do is apply your preferred product to the sponge, switch it on and glide it across your face – starting from the centre and gradually moving outwards.
Tom Ford Cream Foundation Brush
If you find you always have to apply cream products with your fingers, because no matter what tool you use, it just won't blend into your skin as seamlessly as you need it to – try this Tom Ford brush.
This beauty picks up the perfect amount of product, so you'll have full control over how much you'd like to apply, and works best by layering your foundation in firm, straight strokes. Try it with your cream blusher and bronzer too, the slightly hefty price is worth the miracles it works.
NARS Botan Kabuki Brush
Everyone should own a kabuki brush. It's the most multi-functional brush in the family. This NARS one is perfect. The short, tight bristles make it a wonderful tool for buffing loose powders – foundations, blushers, bronzers, highlighters, concealers, the lot – and also useful blending out any contour lines you've accidentally applied too harsh.